FAQ
Below you can find many answers to commonly asked questions. If you don't see the answer to a specific question, we encourage you to contact us via the Contact Us section of the menu.
Is the scooter easy to drive?
---
Yes, it is easy as all our Vespa are automatic(no gears). However, a prior scooter or motorbike driving experience is required. For safety reasons we strongly discourage people without experience to rent a scooter in a foreign country
---
What does the insurance cover?
---
The insurance covers damages against third parties, driver and passenger health assistance.An additional insurance ("Corfu Vespa Tours Care") is available to limit the amount to be paid in case of crash or theft. This extra insurance is on the name of the driver and is not valid if the driver doesn't have prior experience of scooter/motorbike riding or if he/she let drive unauthorizes persons. This extra insurance doesn't cover the accesories.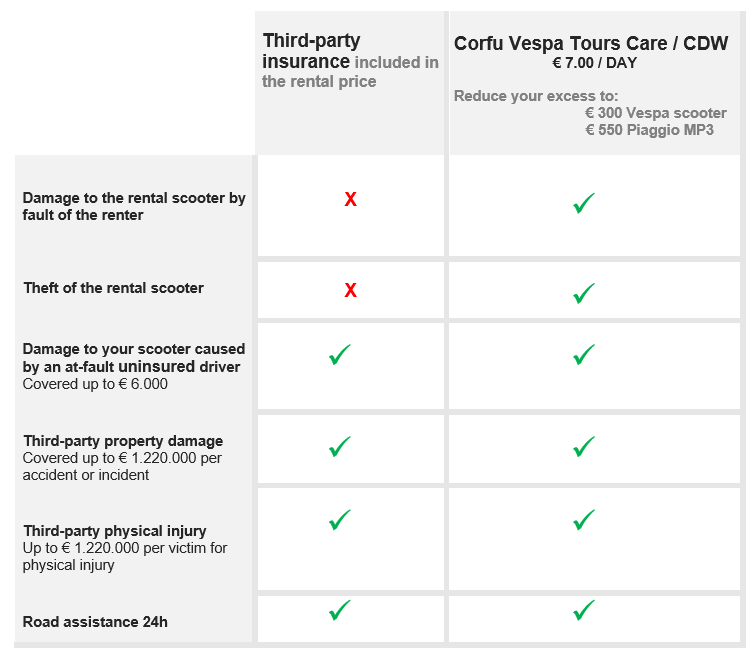 ---
How can I pay?
---
You can pay by credit cards or debit cards, PayPal, bank-wire transfer or cash. Please note that we do not accept American Express and Diners Club cards. A 30% deposit of the total tour/rental cost including taxes is required to secure your reservation through our web booking channel. The tour/rental cost can be paid wholly or partly through our web booking channel. For payments by bank-wire transfer please contact us via email.
---
Can two people use one scooter?
---
Yes, any type of vehicle we have, can welcome up to two people.
---
What driver's license do I need in Greece to rent a Vespa or Scooter?
---
According to the Greek law the following driving licenses are valid to drive: -Vespa 125cc European Driving License: A, A1,A2. International Driving License: A,A1 -Vespa 250cc or 300cc European Driving License: A,A2. International Driving License: A -Piaggio Mp3 300cc European Driving License: A1,A2, B International Driving License:A1,A,B Car Driving License B or International B must be obtained before the 19th of January 2013. Previous experience riding the scooters is mandatory for the Piaggio Mp3 Scooter Driver. -50cc scooters* European Driving License B, AM,A1,A2 International Driving License B, A,A1 - ATV/Quad** European Driving License B International Driving License B Please note that in the case of police control or accident if you are driving without a valid driving licence the insurance of the vechicle is not valid. If an accidend occurs or in case of a police control the rental company must pay 1000€ penalty and 1000€ penalty must be payed by the costumer if he has rented a vehicle without a driving license or with the wrong driving license. Law:N.4530/2018 ΦΕΚ59/A/30-3-2018 European Driving License
International Driving License
30 MINUTES URGENT PROCESING NOW AVAIBLE FOR THE INTERNATIONAL DRIVING LICENSE ON-LINE LINK *We do not offer 50cc scooters. **We do not offer ATV/Quad.
---
Do I need to pay a deposit?
---
Yes, a 30% deposit of the total tour/rental cost including taxes is required to secure your reservation through our web booking channel.
---
If I have rented a Vespa Scooter for a couple of days is it possible to participate between this dates on a Vespa tour?
---
It is possible upon request, but there will be an additional charge. You will be charged the tour cost minus the vehicle rental cost.
---
How do I choose my helmet's size for my Vespa rental/ tour?
---
mesure head 2 cm above eyebrows:
---
What does the scooter rental price include?
---
✅Unlimited kilometres ✅Third-party insurance ✅ 2 Vespa Helmets ✅Top case with backrest ✅USB port & cables ✅Ram mount Xgrip phone holder ✅Custom map of Corfu ✅24/07 Emergency Number & Road Assistance
---
What will happen if I make a booking and I don't have driving experience?
---
For safety reasons, Corfu Vespa Tours cannot rent a scooter to a driver who don't have enough driving experience with a two-wheeled vehicle (scooter/motorbike). If you book a Vespa and you don't have a driving license or don't have the experience to drive a scooter, you cannot be refunded.
---
How do I get to the "Corfu Vespa Tours"Office- meeting point?
---
Our office is located within 1,2km walking distance from Corfu Port.
Our office is located within 1,9 km walking distance from Corfu International Airport.
To find us you may use one of the folowing apps on our web site: Google Maps app for driving and walking directions. Moovit app, get directions with the free local transport planner, find how to get to any place with public transit. Check bus arrival times, maps, service alerts. Please note that bus schedules for Corfu island vary from season to season(from April to October the daily routes are tripled compare to winter season) and Moovit app updates schedules in real time.
---
Helmets are mandatory in Greece
---
Even if you see most of the locals driving without a helmet on the Greek roads, you should not think that there is no helmet requirement in Greece. The penalty for driving without helmet is 350€.
---
Additional insurance Corfu Vespa Tours Care CDW
---
Please note that Greek insurance does not cover any damages you make to the vehicle and therefore we offer additional insurance to reduce your deductible from the full value of the vehicle from: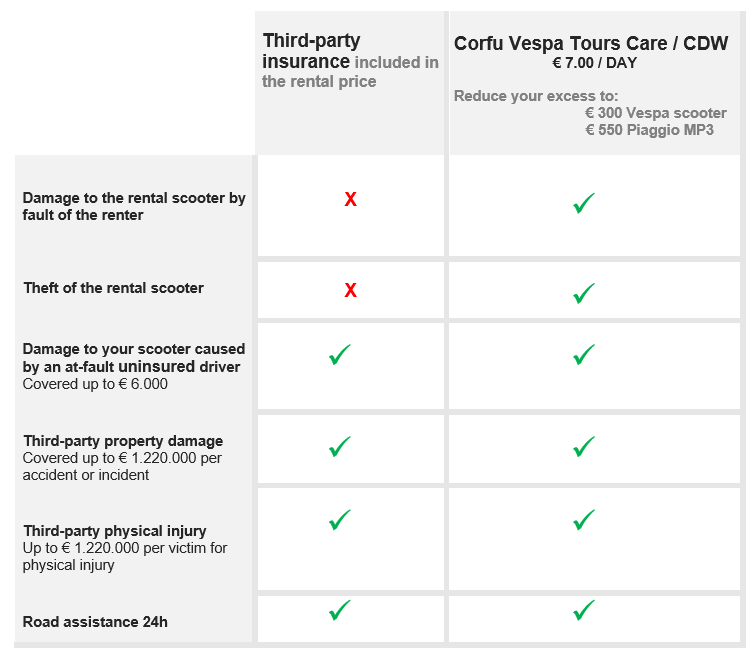 ---
Free luggage storage.
---
At Corfu Vespa Tours we understand that traveling involves taking extra luggage and we provide free luggage storage to all our customers. We will store your luggage at our office until your rental or tour experience is completed or as long as you wish.
---
Why renting a scooter for 1 day is more expensive than renting one for 2 or 3 days?
---
During the low season and midseason the 2-days rental cost almost 30% less per day than the 1-day and for 3-days rental or longer, you get an extra 10% off per day. During High season for 3-days rental or longer, you get a 10% off per day.Below you will find the main reasons why the rental price decrease.
Each time a scooter is returned, we are:
1. Checking the scooter for ware and damages
2. Clean and disinfect the helmets in depth using Motul Helmet Interior Clean Formula. (Specifically, Motul Helmet interior Clean is a Bactericidal disinfectant for the inside of the helmet: cleans in-depth, disinfects and neutralises bad smells. It's formula non-irritating to the skin and it is dermatologically tested. )
3. Washing and polishing the scooter. The maintenance procedures require time, special cleaning and polishing formulas and special equipment.
---
---